The Dumbarton Great Circular Route
| | | |
| --- | --- | --- |
| Length | Starts in | Ends in |
| 190 Km (118 miles) | Dumbarton | Dumbarton |
This is a very nice route, with some demanding hills and incredible scenery all around. Dumbarton is located near Glasgow and about 1 hour and half by car from Edinburgh.
It is a long route, but you can split it in two and do only one of the loops, or make it a two day trip.
Starting at Dumbarton, follow the A814 road to Helensburgh. Continue on this road until Arrochar. At this point you have completed half of the lower loop and you have the choice of continuing to the second loop or closing the first loop by taking the A83 road to Tarbet and then South along Loch Lomond. If you proceed to the second loop be aware that there are no more shortcuts along the way, so you will have to complete it or go back!
To complete the second loop, take the A83 to Ardgartan and the Argyll forest area. Continue on this road until Inveraray, a nice little town with a castle worth taking a look at. Now this is were the "fun" starts. From Inveraray the A819 takes you along the West side of the North loop until near Dalmany, were it joins the A85. The road is quite bumpy, with a couple of large climbs and several smaller ups and downs.
The rest of the route is mostly downhill. At Dalmany follow the A85 until Clifton, and then the A82. This will take you to Tarbet and Loch Lomond, the East side of the South loop of the route. Continue on this road and eventually you will hit Dumbarton again.
It took me 12 hours complete this route, at a moderate pace and with stops every hour and a half or so.
Altitude profile and GPS files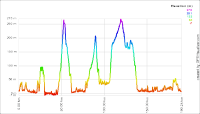 Click on the graph above for a higher resolution version
GPS Track File (GPX) Recorded 2008-05-18
GPS Route File (GPX)
Contact me!
Did you like this route? Do you have any suggestions or comments?
Contact me